13mm plaster on both room faces

Example of wall type 2.4

The required mass per unit area would be achieved by using
100 mm aircrete block leaves
block density 650 kg /m3
225 mm coursing
plasterboard, each sheet of minimum mass per unit area 10 kg /m2, on both room faces
This is an example only. See Annex A for a simplified method of calculating mass per unit area. Alternatively use manufacturer's actual figures where these are available.
Note: Increasing the size of the step or stagger in the separating wall tends to increase the airborne sound insulation.
Diagram 2-18: Wall type 2.4 Junction requirements for wall type 2

Junctions with an external cavity wall with masonry inner leaf
2.73 Where the external wall is a cavity wall:
the outer leaf of the wall may be of any construction, and
the cavity should be stopped with a flexible closer (for wall types 2.1 and 2.2 see Diagram 2-19, for wall types 2.3 and 2.4 see Diagram 2-20) unless the cavity is fully filled with mineral wool or expanded polystyrene beads (seek manufacturer's advice for other suitable materials).
2.74 The separating wall should be joined to the inner leaf of the external cavity wall by one of the following methods:
Bonded. The separating wall should be bonded to the external wall in such a way that the separating wall contributes at least 50% of the bond at the junction.
Tied. The external wall should abut the separating wall and be tied to it. See Diagram 2-21. Also, see Building Regulation Part A - Structure.
2.75 The masonry inner leaf should have a mass per unit area of at least 120 kg /m2 excluding finish. However, there is no minimum mass requirement where separating wall type 2.1, 2.3 or 2.4 is used.
2.76 Where there is also a separating floor then the requirement for a minimum mass per unit area of 120 kg/m2 excluding finish should always apply, even when wall type 2.1, 2.3 or 2.4 is used.
Diagram 2-19: Wall type 2.1 and 2.2 – external cavity wall with masonry inner leaf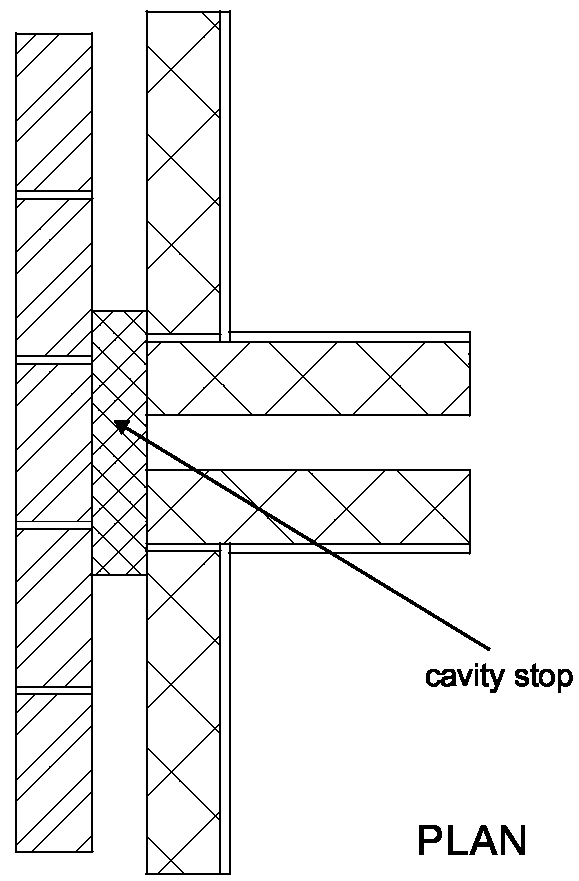 Resistance to the passage of sound 26