SOUNDPROOFING SEPARATING WALLS (NEW BUILDINGS)
---
2.93 Where the roof or loft space is not a habitable room and there is a ceiling with a minimum mass per unit area of 10 kg/m2 with sealed joints, then the mass per unit area of the separating wall above the ceiling may be reduced to 150 kg/m2, but it should still be a cavity wall. See Diagram 2-25.
2.94 If lightweight aggregate blocks of density less than 1200 kg/m3 are used above ceiling level, then one side should be sealed with cement paint or plaster skim.
2.95 Where there is an external cavity wall, the cavity should be closed at eaves level with a suitable flexible material (e.g. mineral wool). See Diagram 2-26.
Note: A rigid connection between the inner and external wall leaves should be avoided. If a rigid material is used, then it should only be rigidly bonded to one leaf.
Diagram 2-26: External cavity wall at eaves level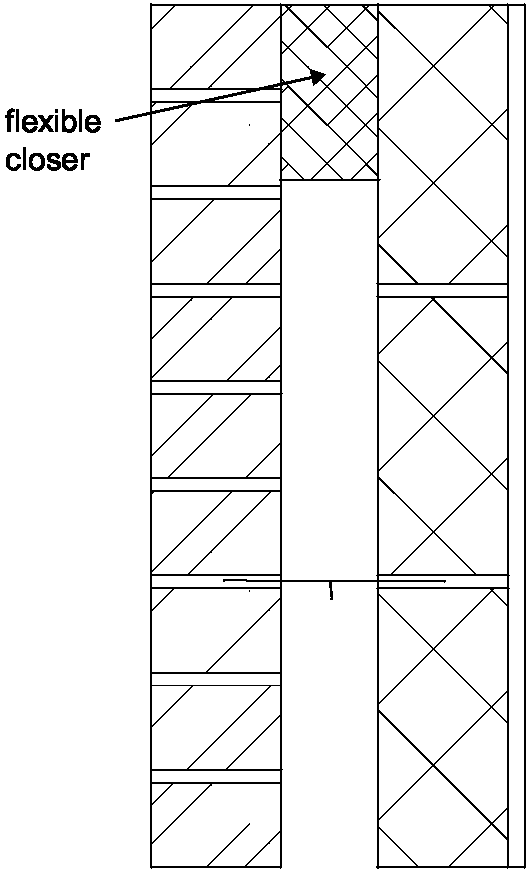 Junctions with separating floors
2.96 There are important details in Section 3 concerning junctions between wall type 2 and separating floors.
Wall type 3: Masonry between independent panels
2.97 The resistance to airborne sound depends partly on the type and mass per unit area of the core, and partly on the isolation and mass per unit area of the independent panels.
Note: Wall type 3 can give high resistance to the transmission of both airborne sound and impact sound on the wall.
Construction
2.98 Three wall type 3 constructions (types 3.1, 3.2 and 3.3) are described in this guidance.
2.99 The construction consists of either a solid or cavity masonry core wall with independent panels on both sides. These panels and any frame should not be in contact with the core wall.
2.100 Details of how junctions should be made to limit flanking transmission are also described in this guidance.
2.101 Points to watch
Do
Do fill and seal all masonry joints with mortar.
Do control flanking transmission from walls and floors connected to the separating wall as described in the guidance on junctions.
Do fix the panels or the supporting frames to the ceiling and floor only.
Do tape and seal all joints.
Do ensure that flue blocks will not adversely affect the sound insulation and that a suitable finish is used over the flue blocks (see BS 1289-1:1986 and seek manufacturer's advice).
Do not
Do not fix, tie or connect the free standing panels or the frame to the masonry core.
Resistance to the passage of sound 29
---
SOUNDPROOFING SEPARATING WALLS (NEW BUILDINGS)
---
Wall ties in cavity masonry cores
2.102 The wall ties used to connect the leaves of a cavity masonry core should be tie type A. Cavity widths in separating cavity masonry cores
2.103 Recommended cavity widths are minimum values.
2.104 Independent panels.
These panels should meet the following specification:
minimum mass per unit area of panel (excluding any supporting framework) 20 kg /m2
panels should consist of either

at least 2 layers of plasterboard with staggered joints, or
a composite panel consisting of 2 sheets of plasterboard separated by a cellular core

if the panels are not supported on a frame they should be at least 35 mm from the masonry core
if the panels are supported on a frame there should be a gap of at least 10 mm between the frame and the masonry core.
2.105 Wall type 3.1 Solid masonry core (dense aggregate concrete block), independent panels on both room faces (see Diagrams 2-27 and 2- 28)
minimum mass per unit area of core 300 kg /m2
minimum core width is determined by structural requirements (see Building Regulation Part A - Structure)
independent panels on both room faces
Example of wall type 3.1
The required mass per unit area would be achieved by using
140 mm block core
block density 2200 kg/m3
110 mm coursing
independent panels, each panel of mass per unit area 20 kg /m2, to be two sheets of plasterboard with joints staggered.
This is an example only. See Annex A for a simplified method of calculating mass per unit area. Alternatively use manufacturer's actual figures where these are available.
Diagram 2-27: Wall type 3.1 with independent composite panels


Diagram 2-28: Wall type 3.1 with independent plasterboard panels


Resistance to the passage of sound 30
---