soundproofing
SQUARESORPTION ACOUSTIC SOUNDPROOFING SUSPENDED CEILING TILE
High performance soundproofing tiles for cutting reverberation from ceilings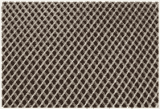 Introduction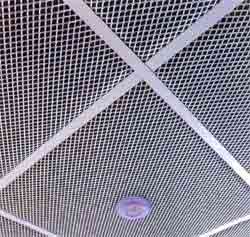 SQUARESORPTION acoustic ceiling tiles are designed for easy application into existing or newly installed suspended, lightweight modular grid systems.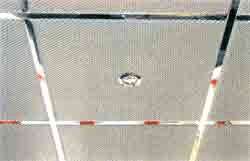 SQUARESORPTION Acoustic suspended ceiling tiles for easy application into modular grid systems
At only 8mm thick, these exclusive sound absorbing Class 0 non-flammable sound insulating tiles are ideal for fitting into high profile locations such as showrooms, reception areas and high tech offices. Squaresorption tiles are ideal for restaurants and fast food outlets as they are free from mineral fibres and CFC. Squaresorption tiles can also be used in a wide range of alternative areas where reverberated sound loss is required.
Noise control Applications
Due to its greater surface absorption are allied with its low weight and Class 'O' fire resistance rating, squaresorption tiles can be used safely in virtually any building.

SQUARESORPTION acoustic ceiling tiles are produced from expanded diamond pattern metal and factory fitted with a unique sound absorbing pad on the rear face of the tile. Pre-bonding of the sound absorbing element simplifies fitting of the tile.
The open structure of the diamond pattern gives an open area of up to 70% enhancing the sound absorbing properties of the finished product.
Due to the dilated pattern of SQUARESORPTION acoustic tiles, a kaleidoscope effect is produced adding lustre and enhancing the value to give a design uniqueness to a ceiling.
SIZES
SQUARESORPTION acoustic tile size is 593 x 593mm to fit into a standard 24mm, 600 x 600mm modular grid system. Tegular edge and flat edge versions are available. We recommend the perimeter cuts are made of flat tiles and not tegular tiles. The tiles can be cut with standard metal snips. A mirror finish grid would add a lustre finish to the entire ceiling design.
General Physical Data

WEIGHT			: 1.5kg/m2
Dimensions		: 593 x 593mm 
FIRE RATING		: Class 'O' to BS476 Part 6/7
Colours			: The expanded diamond metal face is available in a chrome steel or white finish

Sound Absorption Frequency (Hz) 125 250 500 1k 2k 4k 35mm 0.08 0.21 0.45 0.71 0.82 0.91
Noise reduction applications
echo and reverberation absorbtion
apply to ceilings
Key Soundproofing Benefits
Excellent Sound Absorption Qualities
Easy to fit
Fire resistant
Environmentally friendly - free of
halogens and CFC's
More efficient sound absorbing qualities
Easy application into a grid system
Non-flammable Class 0 rated
Easy and speedy installation
Fitting Instructions
FITTING INSTRUCTIONS Installation
acoustic ceiling tiles acoustic panels sound absorption sound insulation acoustic tiles