soundproofing
SOUNDPROOFING VIBRATION DAMPING SVDC1 COMPOUND
DAMPING COMPOUND

Application
SVDC1 vibration damping compound is a sprayable/trowelable and fileable material which dramatically reduces noise levels produced by resonance in sheet metal. Applied in the same thickness as the substrate, it substantially improves the damping characteristics of the structure, thereby reducing vibration and preventing the radiation of noise. It is recommended for new construction metal enclosures of all types, cabinets, chutes, lift doors, vehicles and any other panels prone to resonate.
General Description
SVDC1 is a water based putty-like paste composed of a unique high efficiency polyvinyl acetate emulsion with mineral fillers.
SVDC1 VIBRATION DAMPING COMPOUND PROPERTIES

General Physical Data  
Colour				Buff 
Supply Form			25kg drum 
Solvent				Water
Density				1300kg/m³
Viscosity			High thixotropic
Thermal Conductivity		0.3 w/m oC
Flammability
	BS476 Class 1		For 1.6kg/m² on 1.2mm steel
Shelf Life			Approx. 6 months in unused condition stored in dry 
				space at room temperature. Protect from frost.

Sound Insulation Performance
The damping efficiency of SVDC1 depends on the ratio of the thickness of the damping layer to the substrate and the operating temperature. The graphs below show the relationship between these two factors and the damping efficiency of the compound when it is applied to a steel panel.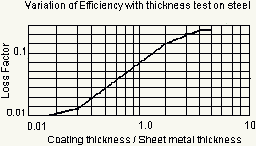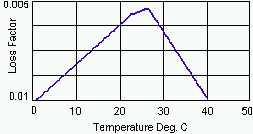 Noise reduction applications
seals gaps between floorboards
adhesive for other sound barrier mats
Key Soundproofing Benefits
apply using trowel or spray
seals and cuts air flow
Simple to fit adheres to most surfaces
useful as bonding agent for other materials
Excellent acoustic performance